What's New at the Museum
June 19, 2016 Fenton Seminar - "Fenton: One year, One month or One run"
There will be another presentation on Fenton Glass by our Vice President Bill Summers, held on June 19 at 11:00am. These presentations have been very popular, and Bill is an excellent presenter. The topic will be Rare Fenton pieces that were available for "one year, one month, or one run! You are going to see some things that are very rarely rare seen! Some are from our museum collection and some are from Bill's collection. We are invited attendees to bring their own Fenton finds to share with other attendees. Free Refreshments! The Gift Shop will be open from noon to four p.m. as well as the entire collection!
May 21, 2016 Redlands Museum Crawl
This annual event highlights the museums in the Redlands area. Participating in the event are the San Bernardino County Museum , The Historical Glass Museum, The Lincoln Memorial Shrine, and Kimberly Crest House and Gardens. We expect to meet and greet many newcomers to the museum on that day. Come one, come all.
April 3 - Silent Auction
On Sunday, April 3, there was a Silent Auction to benefit the Historical Glass Museum in Redlands, held once again at the historic Riverside home of Bill Kleese and Hal Snyder.
March 19-20 - 30% off Sale at the Museum Gift Shop
The Museum has a fully-stocked Gift Shop which consists of donated glass and duplicates from the Museum's collection. Periodically, the quantity of donated glass results in our having to reduce prices to reduce the inventory on hand. Please join us on Saturday March 19 and Sunday March 20, where you may find a treasure for your own collection or a beautiful gift for someone you love. Refreshments will be served.
Here is an easy way to support the Museum
If you like to shop online with Amazon.com, now there is a way you can do so and support the Historical Glass Museum in the process. Begin your Amazon session by following this link: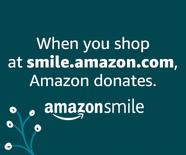 This will take you to the Amazon login, and whatever your order after signing in this way will result in 0.5% of the purchase price being donated to the Museum. It doesn't cost you anything - the donation comes from Amazon itself. So, if you shop Amazon with any regularity, this is a painless way to support the Museum.
Video of the Historical Glass Museum
Here's a nice bonus - a video featuring a tour of the Museum, courtesy of the Inland Explorer. Watch and enjoy !