A Look at the Historical Glass Museum
The Historical Glass Museum Foundation was founded in 1976 by Dixie Huckabee, and a group of interested glass collectors. It took the Foundation nine years of hard work and fundraising to open the Historical Glass Museum to the public in 1985.
In 1977 the Foundation purchased a 1903 Victorian-style home at 1157 North Orange Street in the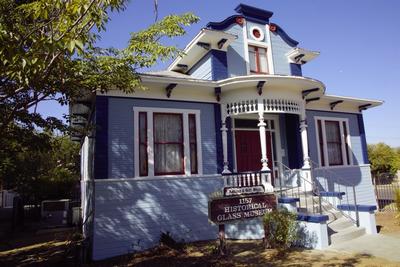 picturesque city of Redlands. It was the beginning of a dream to preserve specimens of American glass from factories that were becoming extinct, as well as factories and glass artists currently producing glass. The Museum now houses the largest collection of American-made glass west of the Rocky Mountains.
We present to you a tour of the Museum via video, courtesy of the Inland Explorer. We hope that this encourages you to plan a visit when you are in the area.
CURRENT BOARD OF DIRECTORS
President:Joann Tortarolo
Vice President: William Summers (tours)
Secretary: Michael Krumme
Treasurer: -- OPEN --
Board Member: William Kleese
Board Member: Jan Korfmacher
Board Member: Stephen Barnett
Board MemberBetty Thomas
Board Member David Adams
Board Member (Appraiser): Joann Tortarolo
Board Member: Barbara Jenks
We are an IRS certified 501(c)(3) non-profit organization. Generally speaking, contributions and donations are tax-deductible, although it is suggested that you consult your tax advisor for your individual situation.
MUSEUM TOURS
Weekday group tours are available by appointment for groups of 8 or more visitors. The charge is $5.00 per person, with a minimum charge of $40.00. For information and bookings call Bill Summers at 951-850-0915.
Tour bus parking and a handicap ramp are available. The museum entrance and wheelchair ramp are located at the rear parking lot. There is also parking along the street curb on Western at Orange.