What's New at the Museum
December 5 - Holiday Open House
The Historical Glass Museum has its annual Holiday Open House on Saturday, December 5th, from 9 a.m. to 4 p.m. at the Museum, 1157 N. Orange Street, Redlands. Come visit the only museum of its kind west of the Mississippi River and see 5,000 pieces of historic tableware and decorative glass from 1800 to the present, all displayed in a Victorian cottage. Free admission and refreshments for the Open House. Enjoy the decorations throughout the museum. Come see the Gift Shop where a wide selection of vintage glass is available for sale at reasonable prices. An Opportunity Drawing for a variety of valuable vintage glass pieces will be held that day.
November 14-15 -- Super Pre-Christmas Glass Sale!
The Historical Glass Museum is featuring a Pre-Christmas Glass Sale this weekend. With some exceptions, all glass will be 30% off this weekend. Museum members are eligible for an additional 10% off! The Gift Shop has some wonderful glass for holiday entertaining and gifts for someone special! Also, come see the only glass museum of its kind that is west of the Mississippi River! One of Huell Howser's favorites!
Sat. 11/14/15 noon-4 p.m., Sun 11/15/15 noon-4 p.m.
October 24, 2015: Glass Presentation--Fenton Whimseys.
The second in a series of free Fenton glass workshop will be held on October 24, 2015, from 11 a.m.- noon at the Historical Glass Museum. Museum Vice President and long-time Fenton collector, Bill Summers, will discuss glass "whimseys" produced by workers at Fenton. The term "whimsey" refers to offhand glass items that were not a part of the company's regular product line and which were created by factory workers in their off hours. "Show and tell" will conclude the workshop where participants can bring samples of Fenton glass to share with others. Refreshments will be provided.
Sale August 29-30
On Saturday, August 29th and Sunday, August 30th, the gift shop of the Historical Glass Museum in Redlands will be having a 30% off sale. The gift shop offers a rotating selection of hundreds of pieces of antique, collectible and contemporary glass that has been donated by Museum members and supporters. All sales support the work of the Museum, which is a nonprofit organization. The gift shop will be open during the Museum's regular weekend hours, 12:00 noon to 4:00PM. Some exclusions apply.
Celebrate our 30th Anniversary with us on the weekend of June 27-28!
Saturday, June 27, noon to 4 p.m. at the Museum. Saturday is a review of the last 30 years at the Museum from the renovation of the Seymour House into a Museum and the early activities all the way up to the present! Pictures will document the 30 years. Huell Howser videos will refresh our memories. Charter Members and other early members will be honored. At 2 p.m., a plaque will be dedicated to Liz Paldanius who served as the only Historian of the HGM and was voted as a HGM Board Member Emeritus in 2012. Snacks will be served. Come join us to reminisce and to visit with long-time glass collecting friends!
Sunday, June 28, noon to 4 p.m. at the Museum. Children and Family Day at the Museum. Celebrating the future is the theme of Sunday's activities. The schedule for this day is still being formed. Music will be performed in the parking lot by two outstanding groups from Redlands. Face painting will be available by artist Claudia L. Munoz from Art-Z-Mom Face Painting. Stay tuned for more information!
June 20 - Fenton Presentation
Saturday, June 20, 11 a.m. – 1 p.m. at the Museum. Fenton Glass Presentation. The Historical Glass Museum receives many visitors that are interested in Fenton Glass. This is the first in a series of programs that will feature Fenton glass and its various patterns. Hobnail is a long-continuing pattern from Fenton and other glass companies. Bill Summers, our Vice President, will use examples from museum glass to address "How and when hobnail began," as well as how it was developed by Fenton in the 1940s, 1950s, and 1960s. After Bill concludes his presentation, attendees will have the opportunity to bring their own Fenton finds and share them with the others. Bill will be able to answer questions based on his extensive experience. Refreshments will be served and the Gift Shop will be open. Join us on June 20th!
Video of the Historical Glass Museum
Here's a nice bonus - a video featuring a tour of the Museum, courtesy of the Inland Explorer. Watch and enjoy !
January 22 - Stemware Display returns, even bigger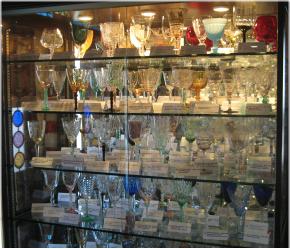 The Museum is now showing a tall cabinet full of American-made stemware, from the 1920s through the 1960s. There are over 160 pieces, each identified as to manufacturer and pattern (if known). Crystal, colored, bi-colored and even one tri-colored piece are shown from many well-known and some virtually unknown companies. This is just the tip of the iceberg, as there were hundreds of glass companies making thousands and thousands of different stems during the past century and a half. Sadly, nearly every one of those companies has gone out of business and most of our glassware is imported today.
Drop in and enjoy this impressive array of goblets and be dazzled by the quality and diversity of the American glass industry of the past.
December 30 - An easy way to support the Museum
If you like to shop online with Amazon.com, now there is a way you can do so and support the Historical Glass Museum in the process. Begin your Amazon session by following this link: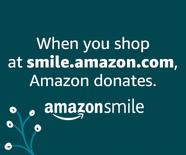 This will take you to the Amazon login, and whatever your order after signing in this way will result in 0.5% of the purchase price being donated to the Museum. It doesn't cost you anything - the donation comes from Amazon itself. So, if you shop Amazon with any regularity, this is a painless way to support the Museum.