What's New at the Museum
December 6 - Holiday Open House at the Museum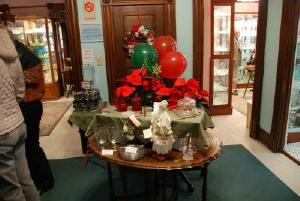 Mark your calendar and plan to join us at our Holiday Open House on Saturday, December 6, from 9 a.m. to 4 p.m. Free admission and refreshments to celebrate our Open House. In addition to our 5,000 pieces of historic glass, we will have a special display of antique Christmas ornaments which are rare and unusual! Our Gift Shop is full of recently acquired vintage glass at reasonable prices! Great Christmas gifts are available!
There's more! A drawing will be held at 4 p.m. on the 6th for these wonderful prizes in our annual Opportunity Drawing! View the prizes here! A Fenton Cranberry vase, a Fostoria orchid comport, a piece of Joan Rivers jewelry, and/or a $50 gift certificate! Come and join in the fun! Free admission and free refreshments on December 6th!
We are looking forward to seeing you at our Open House!
November 9 - Sale was very successful -- more to come
Our sale yesterday resulted in another $1200 going to the Museum. Buyers got some terrific bargains on some really high quality glass. There is still more glass left, and the next time, the sale will move to the Museum. We'll let you know when that will happen on this web site. We want to again thank the family of Liz Paldanius for this opportunity to boost the Museum's reserves.
November 8 - Second chance: SALE of long-time glass collection
The October sale of the extensive glass collection of our late Board member and historian, Liz Paldanius, was a great success! Over 300 pieces of glass were sold at the sale for a donation of $2200 to the Historical Glass Museum! Thanks to all of your for your support!
The bad news (actually good for all of you!) is that we have hundreds more pieces of glass to sell! Thus, a second sale has been set up with automatic discounts!
The sale is this Saturday (same time, same place--9 a.m. to 3 p.m.) at Liz's house in Riverside. (see attached flyer). We still have some wonderful pieces of glass available and now at reduced prices.
We did not succeed in getting all of the glass priced and out for the last sale so there are many new pieces available. For example, we found several more boxes of Heisey glass and more pieces of Duncan! We also have four extensive collections of depression glass available that were not put out last time.
The sale is scheduled for Saturday, November 8th from 9 a.m. to 3 p.m. at Liz's house in Riverside (see attached flyer). Hope to see you there!
More pictures will be posted this week on our Facebook page!
Here are some photographs of the glass for sale:
Photo1 Photo2 Photo3
October 12 - Sale a success - more to follow
The Glass Estate Sale yesterday was a success. We sold over $6000 worth of glass for a donation of over $2000 for the museum. We did not sell it all, however! There will be more sales. So if you were unable to attend, you will have other opportunities to participate in the sales of this glass. Attendees for the sale came from Los Angeles and Orange County as well as Palm Desert. Thanks to all who participated.
October 11 - Big SALE of long-time collection
We recently lost our long-time Board member and supporter, Liz Paldanius. She lived a long life--most of it as a glass collector -- as she passed away at 95. She was active on the HGM Board as Historian (our only Historian!) and attended her last Board meeting just over two years ago. Liz was a collector extraordinaire. Her daughter, also an HGMF Life Member, asked us to assist in the liquidation of Liz's extensive glass collection.
The sale is scheduled for Saturday, October 11th from 9 a.m. to 3 p.m. at Liz's house in Riverside (see attached flyer). Liz had hundreds and hundreds of pieces of glass by a wide variety of makers. Come and take a look at all of the glass on that day -- and maybe buy some special pieces. 35% of the proceeds will go to the Historical Glass Museum.
Here are some photographs of the glass for sale (in PDF format):
Photo1 Photo2 Photo3
June 1 - We need a Treasurer
As with any other non-profit museum, we are always looking for volunteers, but in this case, we REALLY need someone to step up and volunteer to be our Treasurer. Currently, the position is vacant, and the President is temporarily handling the finances, but it is important that more than one person share this responsibility. If you have ANY experience in this sort of thing, PLEASE, WE NEED YOU.
May 3 - "Museum Crawl"
On May 3rd, four museums in San Bernardino County (including ours) will open their doors for free to all comers, in the first annual "Museum Crawl." Join in the fun, as described in the attached Museum Crawl Brochure.
April 2014 - Glass-Lovers Spring Celebration!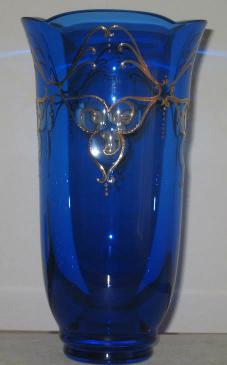 For the month of April, we are rewarding our supporters with an opportunity drawing with the prize a beautiful Bohemian vase c. 1900, appraised value $75 (Photo at right).
Between April 4 and April 27, 2014, tickets will be issued for the following activities conducted "in person" at the museum:
1 ticket will be given for each donation-based admission




5 tickets will be given for each adult membership and 2 tickets will be given for each new student membership (must have Student ID and an email address)




1 ticket will be given for each $5 spent in the Gift Shop (in excess of $10). Tax not included for awarding of tickets




Ticket Drawing will be held at 4:00 p.m. on April 27 at the museum. Winner does not need to be present.
ALSO, We are in the Spring Cleaning mode! This means that you are in for a considerable savings in the Gift Shop during the month of April! 20% off everything in the Gift Shop with the exclusion of Mosser, Fenton, Charles Keeling, and Rossi Glass! Print out and bring in the attached coupon for your 20% savings! (Museum members qualify for the additional 10% members discount on these same items!)
Lots of wonderful glass available!
A Hint of Upcoming Events
The "Museum Crawl" to celebrate Preservation Week and highlight historical museums in the Inland Empire. Tentative date: Saturday, May 3, 2014. Check back for more information.
Annual Meeting of the Historical Glass Museum Foundation is tentatively scheduled for Thursday, May 1, 2014, at 9:30 a.m. at the HGM. Again, check back for more details.
The Historical Glass Museum Foundation is joining with 200 other non-profits in San Bernardino County to conduct the 24-hour on-line "Big Give" on May 8, 2014. Check back for more details.
December 2013 - Holiday Open House set for December 7, 2013
On December 7, the Historical Glass Museum will be holding an open house from 9:00am to 4:00pm. Admission to the Museum will be free, and there will be a raffle. Anyone who purchases $25 or more at the gift shop will get a free gift. Come and see the museum and meet our officers and docents. You'll be dazzled by the wonderful glass and have a good time, too. You can click on the image of the flyer to get a larger version (printable).
November 2013 - Visit from noted Author Debbie Coe
Author of numerous books on Glass topics, Debbie Coe will be visiting the Museum on November 16, and will be signing copies of her books for anyone interested. She will also have books for sale. For details, visit our Events page.
August 2013 - A new President
Due to illness, Bill Brakemeyer submitted his resignation as President, effective with the August Board of Directors meeting. We all wish him well, and thank him for his service to the Museum. The Board has selected Joann Tortarolo as the new President, effective immediately. Congratulations, Joann.