What's New at the Museum
May 3 - "Museum Crawl"
On May 3rd, four museums in San Bernardino County (including ours) will open their doors for free to all comers, in the first annual "Museum Crawl." Join in the fun, as described in the attached Museum Crawl Brochure.
May 8 - Mark your Calendar - Give BIG San Bernardino County
From 7 a.m. on May 8, 2014 to 6:59 a.m. on May 9, 2014, supporters of San Bernardino County nonprofits can go online, connect with causes they care about and make a donation. Every donation made has a chance of receiving a "Golden Ticket." When a randomly selected donor is the lucky recipient of a "Golden Ticket," their charity will receive additional prize money. In addition, the top 5 organizations on the Leaderboard will receive prize money.
You can donate to the Historical Glass Museum and help in our efforts to maintain the only glass museum west of the Rocky Mountains. Simply go to the Give BIG San Bernardino County HGM Donation Page and choose the amount you wish to donate. Mark your calendar and plan to join us online on 5/8/2014.
April 2014 - Glass-Lovers Spring Celebration!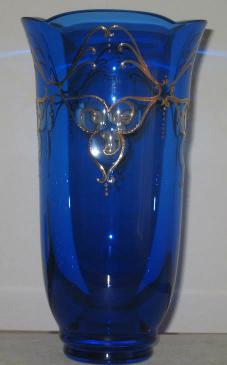 For the month of April, we are rewarding our supporters with an opportunity drawing with the prize a beautiful Bohemian vase c. 1900, appraised value $75 (Photo at right).
Between April 4 and April 27, 2014, tickets will be issued for the following activities conducted "in person" at the museum:
1 ticket will be given for each donation-based admission




5 tickets will be given for each adult membership and 2 tickets will be given for each new student membership (must have Student ID and an email address)




1 ticket will be given for each $5 spent in the Gift Shop (in excess of $10). Tax not included for awarding of tickets




Ticket Drawing will be held at 4:00 p.m. on April 27 at the museum. Winner does not need to be present.
ALSO, We are in the Spring Cleaning mode! This means that you are in for a considerable savings in the Gift Shop during the month of April! 20% off everything in the Gift Shop with the exclusion of Mosser, Fenton, Charles Keeling, and Rossi Glass! Print out and bring in the attached coupon for your 20% savings! (Museum members qualify for the additional 10% members discount on these same items!)
Lots of wonderful glass available!
A Hint of Upcoming Events
The "Museum Crawl" to celebrate Preservation Week and highlight historical museums in the Inland Empire. Tentative date: Saturday, May 3, 2014. Check back for more information.
Annual Meeting of the Historical Glass Museum Foundation is tentatively scheduled for Thursday, May 1, 2014, at 9:30 a.m. at the HGM. Again, check back for more details.
The Historical Glass Museum Foundation is joining with 200 other non-profits in San Bernardino County to conduct the 24-hour on-line "Big Give" on May 8, 2014. Check back for more details.
December 2013 - Holiday Open House set for December 7, 2013
On December 7, the Historical Glass Museum will be holding an open house from 9:00am to 4:00pm. Admission to the Museum will be free, and there will be a raffle. Anyone who purchases $25 or more at the gift shop will get a free gift. Come and see the museum and meet our officers and docents. You'll be dazzled by the wonderful glass and have a good time, too. You can click on the image of the flyer to get a larger version (printable).
November 2013 - Visit from noted Author Debbie Coe
Author of numerous books on Glass topics, Debbie Coe will be visiting the Museum on November 16, and will be signing copies of her books for anyone interested. She will also have books for sale. For details, visit our Events page.
August 2013 - A new President
Due to illness, Bill Brakemeyer submitted his resignation as President, effective with the August Board of Directors meeting. We all wish him well, and thank him for his service to the Museum. The Board has selected Joann Tortarolo as the new President, effective immediately. Congratulations, Joann.