What's New at the Museum
May 3 - Preservation Week 2015
The Historical Glass Museum will once again participate in Preservation Week as a way to publicize the Museum and support the community. In recognition of Preservation Week 2015, the Kimberly Crest House and Gardens will again serve as host institution for a Museum & Historic House Crawl on Sunday, May 3, 2015.
Similar to last year, each location of the crawl will open its doors to patrons and provide its standard services for the day (i.e., tours, programming, etc.). The goal for this event is to highlight the unique histories and ongoing preservation efforts (e.g., interpretive, construction, conservation, etc.) of cultural landmarks near Redlands, CA and expand our current network of patrons and supporters.
March 28 - Celebrating 30 years of the Historical Glass Museum
Many collectors do not realize that the Museum is located in the Jerome Seymour House, a historic building in its own right. Redlands native, Karen Choate Sorenson, is a long-time friend of the Seymour Family who built the Seymour House in 1906. Karen will be giving a narrated tour of the house at 2 p.m. on March 28th. Pictures of the house when the Seymours lived there will be featured. We have wondered for many years what each of the rooms were used for and what the Seymour family was like.
To celebrate this presentation, the Historical Glass Museum will feature an open house on March 28th from noon - 4 p.m, with refreshments and free admission. This is the first activity of our celebration of 30 years in Redlands! Wonderful glass will be for sale in the Gift Shop. Please join us for the celebration.
Here's a bonus - a video featuring a tour of the Museum, courtesy of the Inland Explorer. Watch and enjoy !
January 22 - Stemware Display returns, even bigger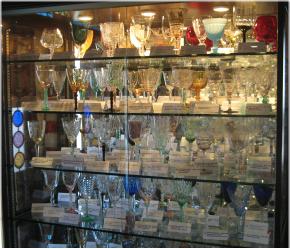 The Museum is now showing a tall cabinet full of American-made stemware, from the 1920s through the 1960s. There are over 160 pieces, each identified as to manufacturer and pattern (if known). Crystal, colored, bi-colored and even one tri-colored piece are shown from many well-known and some virtually unknown companies. This is just the tip of the iceberg, as there were hundreds of glass companies making thousands and thousands of different stems during the past century and a half. Sadly, nearly every one of those companies have gone out of business and most of our glassware is imported today.
Drop in and enjoy this impressive array of goblets and be dazzled by the quality and diversity of the American glass industry of the past.
December 30 - An easy way to support the Museum
If you like to shop online with Amazon.com, now there is a way you can do so and support the Historical Glass Museum in the process. Begin your Amazon session by following this link: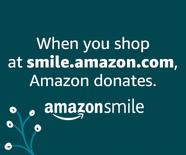 This will take you to the Amazon login, and whatever your order after signing in this way will result in 0.5% of the purchase price being donated to the Museum. It doesn't cost you anything - the donation comes from Amazon itself. So, if you shop Amazon with any regularity, this is a painless way to support the Museum.
December 6 - Holiday Open House at the Museum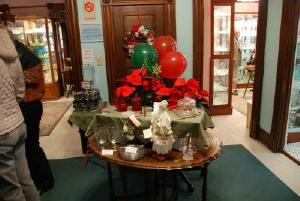 Mark your calendar and plan to join us at our Holiday Open House on Saturday, December 6, from 9 a.m. to 4 p.m. Free admission and refreshments to celebrate our Open House. In addition to our 5,000 pieces of historic glass, we will have a special display of antique Christmas ornaments which are rare and unusual! Our Gift Shop is full of recently acquired vintage glass at reasonable prices! Great Christmas gifts are available!
There's more! A drawing will be held at 4 p.m. on the 6th for these wonderful prizes in our annual Opportunity Drawing! View the prizes here! A Fenton Cranberry vase, a Fostoria orchid comport, a piece of Joan Rivers jewelry, and/or a $50 gift certificate! Come and join in the fun! Free admission and free refreshments on December 6th!
We are looking forward to seeing you at our Open House!